Microsoft Edge Update: New and Old Features You Should Check Out
Microsoft has been working hard to redesign and rebuild the Microsoft Edge browser. Now that it has more features, it is simpler to use and is gradually growing in popularity as one of the most widely used web browsers.
Microsoft Edge has been updated with user-friendly integrated tools that protect you online, enhance performance, and let you save money when you shop. The updated features, such as the Snap layouts and Microsoft Cashback, put Microsoft Edge ahead of competing browsers. Now let's shed some light on these new and old features and their use.
Microsoft Cashback: Groceries at a lower cost
The Microsoft Edge browser update 108 introduces a new feature called Microsoft Cashback.
You can get cash back when you shop in Microsoft Edge for groceries. When shopping with top retailers using Microsoft Edge, you can save money on common grocery items like milk, eggs, fruit, and more.
Snap layouts help you stay organized
The snap layouts features is a new feature that works with Windows 11. Snap layouts in Windows 11 allow you to better organize your tabs by perfectly aligning the windows you need side-by-side on a single screen.
Microsoft Edge is a good browser option because it comes with these user-friendly built-in features.
Discover the news feed that appeals to your interests
Receive all of the news that interests you in one feed. Your news feed can be filtered by popular topics like sports, gaming, entertainment, and more.
Website typo protection: Protect yourself from malicious websites
Perhaps you were unaware that Microsoft Edge has a feature like this. Typos are common when writing a website name (URL), and these careless blunders could send you to a site that is potentially fraudulent and was set up by a malicious actor. Owners of typosquatting websites profit from users' errors by rerouting them to affiliate links, fraudulent products, phony search engine results, or, in some cases, parked domains set aside for temporary phishing campaigns.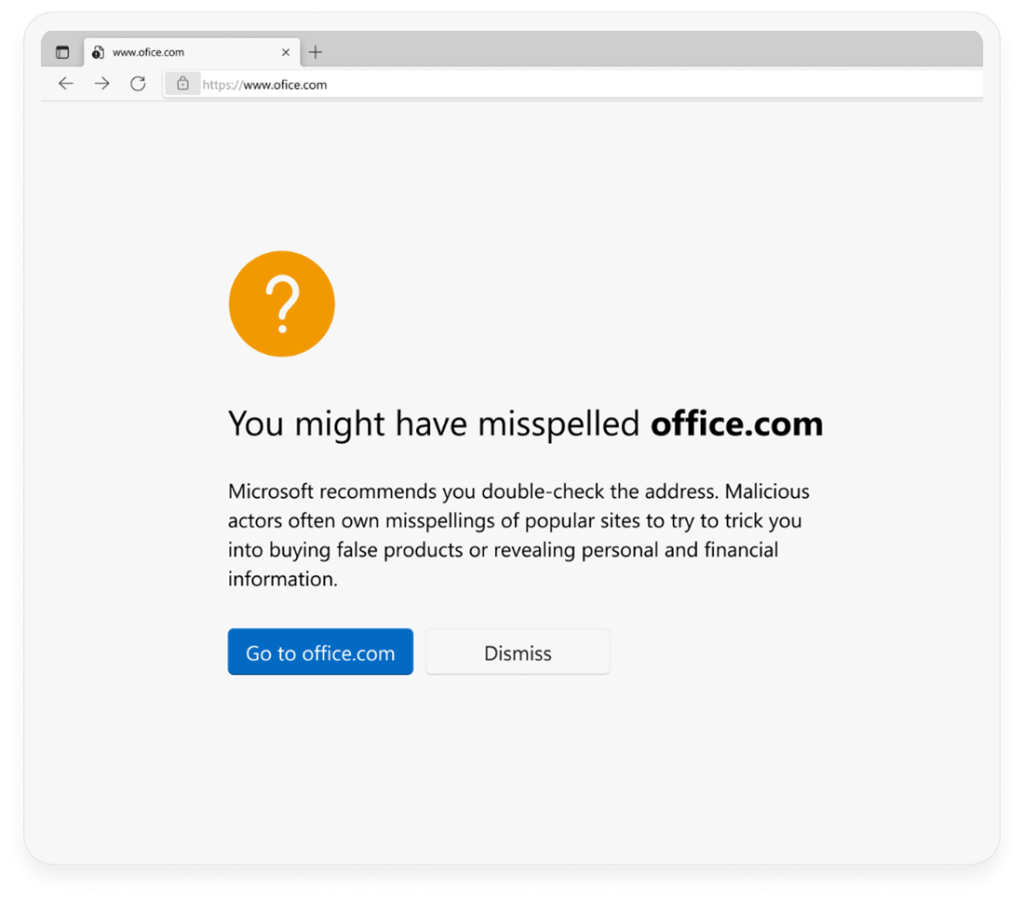 Website typo protection directs you to the correct site in case you accidentally navigate to a fraudulent one after misspelling the URL of a well-known site. Microsoft Edge will notify you and suggest a website that closely matches the one you typed if you enter the address of a well-known website incorrectly, directing you to reliable websites.
SmartScreen: Stay protected from unsafe websites and downloads
This feature provides you with an additional line of defense against malware and phishing. Users are protected by Microsoft Defender SmartScreen from websites that run phishing and malware campaigns. 
Microsoft Edge helps protect you from malicious websites and downloads by using Microsoft Defender SmartScreen. When it comes to malware and phishing attacks on Windows, Microsoft Edge provides the best protection.
Password Monitor: Keep your accounts secure
Usernames and passwords that have been compromised are frequently sold on the Dark Web, an online black market. In order to take control of people's accounts, hackers use automated scripts that test numerous combinations of stolen username and password. You may become a victim of fraudulent transactions, identity theft, unauthorized fund transfers, or other illegal activities if one of your accounts is compromised. Password Monitor feature can be useful in this situation.
With this Microsoft Edge feature, you get an additional layer of password security as well as defense against account hacking. Password Monitor protects your online security by warning you if your passwords have been compromised and are found on the Dark Web.
In conclusion
Although Google Chrome continues to be the most popular web browser, Microsoft Edge has some interesting features that are worth exploring. Who knows? You might make it your default browser if you haven't already.